Nokia 8 Review
HMD Global announced the re-entry of the Nokia brand in the mobile market late last year, and the Nokia 6 became the first phone to be unveiled under the new arrangement. This was followed by the launch of the Nokia 5 and the Nokia 3, with the focus very much on the entry-level segment. That changed in August when the Nokia 8 was unveiled at a special event in London. This device is the realisation of a long-held dream of many enthusiasts – a Nokia-branded Android smartphone with flagship-class specifications.
The Nokia 8 packs the Snapdragon 835 SoC – a chip that nearly all current-generation Android flagships are built around – and comes with near-stock Android. That means there's little room for differentiation in terms of specifications or software. Instead, like many other OEMs, HMD is pinning its hopes on the camera to act as the big selling proposition for its most expensive smartphone till date.
To that end, HMD has revived Nokia's iconic partnership with Carl Zeiss AG – the brand that lent its name to many famous Nokia camera phones back in the day – for the front and rear cameras of the Nokia 8. The phone also packs some new tricks like the ability to capture 'bothies' and record spatial 360O audio thanks to technology borrowed from Nokia's Ozo camera. Is that enough to make the Nokia 8 stand out in a crowded market? Let's find out.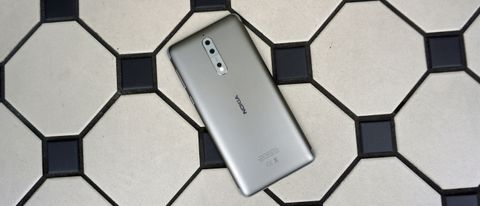 Key features
Dual-sensor rear camera that can take great bokeh images
New 'Bothie' mode for both selfie and rear camera images
With the Nokia 8 being the brand's first flagship for a few years, a big emphasis is being put on its camera, which was a highlight feature of the last Windows Phone Nokia devices from 2014.
The Nokia 8 features a dual-sensor rear shooter that can capture 'bokeh' images with an attractive background blur, and uses a RGB and monochrome sensor in tandem for better low light photography.
The camera has been made in partnership with Zeiss too, although it's not entirely clear what input the German lens specialists have had.
There are lots of extra features squeezed in here in an attempt to make this one of the best phone cameras on the market.
You may have heard of the new 'Bothie' mode, which uses both the front-facing and rear-facing cameras at the same time, so you can capture what's behind your phone – probably yourself – as well as what's in front.
On top of that there's also Nokia's OZO 3D audio capture tech, which should allow for more immersive video when you're recording.
There are absolutely no complaints with the Nokia 8's performance or specs. It comes equipped with Qualcomm's Snapdragon 835 chip, which is the go-to processor for 2017 flagship phones.